Many years ago I presented a virtual webinar to a group of 75 employees in a financial service company. Everyone was muted and no one was visible.
And I hated it.
Having presented live for many years I missed the  faces, the smiles and the interaction. I missed the head nods when I asked questions, and I missed the chuckles when I knew they were due. I swore off presenting virtually for many years thereafter.
That was then, and this is now. And how life has changed!
The virtual platforms have now transformed the delivery of remote presentations.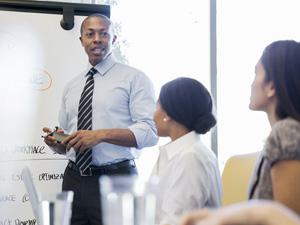 I have had the opportunity to present virtually many times since the quarantine in March, 2020. Some of my presentations have been as long as 3.5 hours, and one person actually said they wish it had been longer! I have now also become certified as a virtual presenter and am very proud of that new badge.
Thanks to today's technology, there can easily be active engagement and interaction throughout virtual presentations. The feedback I have received may even be better than ever received in the past. Below are just some of the many, many comments I have received.
I wasn't so sure how a Zoom meeting was going to go but Jayne killed it. She was super engaging and I feel bad for the speaker who has to follow her. She was really engaging even though we were in a Zoom meeting. During the breakout sessions she visited each group and participated in the exercise with them and gave real time feedback. It was a great exercise and extremely beneficial.
I thought today's session was great. I felt it was eye opening and you could sort of have an out of body experience in the breakouts as you became more aware of what you were doing.
If you are reluctant to book a presenter for your team because of remote work restrictions, think again! There are so many great speakers and presenters available, and virtual presentations are easier for everyone. There is no travel, no hotels, no fear of your speaker missing a flight!
Now is the time to get everyone on your team ready for when doors open again. To work on professional development, build morale, and prepare for the next stage—whatever that stage may be!
If you are looking to polish your communication skills be sure to pick up a free copy of my e-book "Communicate with Clarity and Confidence!" by subscribing to our newsletter community on our website. For additional information call us at 212-308-7725 or send us an e-mail at jayne@corporatespeechsolutions.com to learn more. I'd be more than happy to answer any questions you might have!
© 2020, Corporate Speech Solutions of New York City and Long Island – All Rights Reserved